INTELLIGENT CUSTOMER SERVICE SOLUTIONS FOR WARRANTIES AND RETURNS

The interpretation of the term "warranty" holds a very broad and clear set of rules. Since most guarantees are tied to expiration dates, just about everything sold includes a written or implied warranty. However, challenges remain for customers needing to easily service their purchases while companies must find ways to effectively and cost-efficiently maintain these promises.
Enter Intellareturn
The Intellareturn RFID solutions link previously isolated dimensions — the customer, their products, companies, warranty privileges and time — through third-party shipping networks (3PLs) in ways never before thought possible to provide intelligence at the point of return.
How does it work?
Intellareturn enables courier shipping organizations to automatically ascertain a product's warranty and return privileges, just by reading an RFID tag affixed on the item. The system accesses a web server database to check return privileges in real-time. This method automatically addresses the shipping, related third-party billing, advance shipment notifications and tracking information of returned items based on warranty policies set by either the seller or manufacturer.
Essentially, Intellareturn focuses on utilizing the existing infrastructures of the courier and package services industry — FedEx, UPS, DHL, the U.S. Postal Service and other logistics providers — to process returns for warranty, repair or related exchanges under warranty policies. We EXPEDITE, AUTOMATE AND SIMPLIFY the process using familiar delivery and pick up options so customers can avoid wasting their valuable time. The Intellareturn RFID solutions securely link companies and their customers, building a competitive advantage through convenient consumer and/or business return options.
Innovative Warranty and Return Solutions for Every Industry and Customer
Intellareturn is not a return for credit service, but rather a warranty and repair service for anything from a broken gadget under warranty to an exchange of defective products or parts. These innovative solutions can be incorporated by countless industries, from retail and airline players to the U.S. Department of Defense for better managing purchases and maintenance needs.
By providing services wrapped into products with RFID, the RadioTag(sm) system automates downstream value-added customer services by establishing new business advantages for post-sale services that enhance the total lifetime value of customers. Associating product ownership and warranty provisions for any product with an EPC code adds new value in the supply chain and enhances ROI.
A Viable Solution for Proactive Fraud Reduction
The Association of Certified Fraud Examiners estimated that in 2004, an average of 6% of a given company's revenue was consumed by some type of fraud or abuse — warranty or otherwise.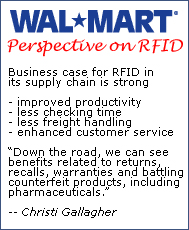 Our patented RFID process delivers a unique identifier for each item and therefore could be a mechanism for managing tighter control around fraudulent or off-warranty policy returns — and providing valuable information about the probabilities of returns by batch, production day, wholesaler or store chain. Similarly to the root-cause analysis and statistical analysis tools available to OEM suppliers for consumer products (who ultimately take returns on their P&L), Intellareturn products and services are able to analyze defects in the PROCESS of distribution.
According to an article on warranty management by Accenture, one of the developments in IT that promises to revolutionize warranty and service management involves embedding sensor technologies in products. Because these sensors can record information about when and where an item was purchased, by whom, and even how that product has been treated during shipping and storage, or even after it was purchased, the potential to reduce warranty fraud is great.
Intellareturn enables organizations to create a valuable touch point with their customers that improves the relationship by understanding them to better service them, tied to the real-time synchronization of courier systems that become partners for new service and customer support/benefits (i.e. product identity registration, lost-and-found protection, warranty and return services). Intellareturn can even integrate our solutions within a manufacturer, retailer, courier partner or online merchant's website as an end-to-end customer return center.
Explore a relationship with Intellareturn today and uncover how intelligence at the point of return can revolutionize warranty and service management.