IMPROVING MILITARY LOGISTICS, READINESS AND RESULTS WITH RFID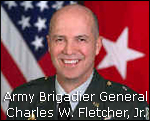 The Department of Defense (DoD) has become a clear proponent of high-tech inventory-tracking for military shipments. Why? Senior officials believe RFID will benefit both troops in the field and the bottom line. Suppliers have already started using radio frequency identification technology to comply with the Defense Department's mandate and January 2005 deadline.
According to Army Brigadier General Charles W. Fletcher, Jr., Military Surface Deployment and Distribution Commander, the ability to track and account for all military inventories during shipment around the world would be a huge force multiplier. "This gives us the ability to truly forecast (logistical) readiness."
Harnessing Technology to Improve the Military's Supply System
Intellareturn envisions stipulations in each Department of Defense contract, where parcels and units requiring RFID tags will include an interface and code for automated return shipping instructions. Our Return ID Stamp®, RadioTag(sm) Services and Intellabox® Packaging can be incorporated into the Defense Department's parcel and logistics network, expediting the returns process for repair, exchange, recall or warranty requirements.

As the largest part of the DoD organization, the Defense Logistics Agency (DLA):
manages 5.2 million items that support individuals and the services' weapons platforms
distributed more than $28 billion worth of supplies and services to America's fighting forces (fiscal year 2004)
projects fiscal year 2005 supplies and services near $31 billion
would rank 54th if it were a Fortune 500 company — above Walt Disney Company
provides 100 percent of the food, clothing and protective gear, medical supplies, fuel and construction material to America's armed forces
supplies 95 percent of repair parts for critical assets including aircraft, tanks and other weapons platforms.**
The mission of the DLA is to provide all military organizations with best value logistics support. Intellareturn reinforces this with processes and solutions for the millions of items and shipments under management for the fighting forces of the United States. For the Department of Defense, every part or shipment can have warranty return information and date of purchase data linked or integrated within the RFID tag to better manage the contractual warranty rights for products and related return, repair, recall, exchange and replacement needs.
The Goal: DoD Warranty Compliance Automation
Intellareturn understands the challenges associated with managing millions of items for military personnel across the world. Our goal is to create a standard for warranty and return services that supports and enhances logistics needs and processes of the Defense Department.
For additional information, review our DoD Warranty Compliance Automation white paper in PDF format or published on the Defense Acquisition Regulations Directorate site.
** Based on information from the Defense Logistics Agency site at www.dla.mil.