ENHANCING AND MAINTAINING THE CUSTOMER RELATIONSHIP AFTER THE SALE
Today, reliable post-sales support is essential for driving customer satisfaction and competitive advantage — and Intellareturn provides complete post-sales solutions.
With Intellareturn Product Registration services, ownership and purchase date is electronically handled. Registration can be completed at either the point of sale or post-sale by the customer online. Product ownership information can then be linked through Intellareturn to the RFID label on a product or carton, allowing organizations to provide enhanced post-sales support and capabilities.
Using RFID or EPC tags with RadioTag creates a new and innovative customer experience for returns and warranty service, since returns are now a major problem for consumer goods manufacturers, retailers and e-tailers (i.e. wrong sizes, product not as photographed or customer doesn't like it, broken merchandise, needs repair under warranty, etc). The experience is automated — in real time — so customers don't even need to leave their home for returns or repairs. In many cases, they will not even need to address or print a shipping label.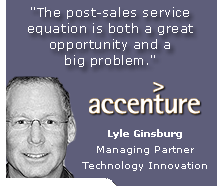 Through Intellareturn, it's all done automatically when a courier service driver or drop-off location reads the tag on a customer's product or packaging carton and dynamically routes it to the proper service area. Rather than return everything to one location, warranty service or specfic product returns can be routed to the right location.
Consider this: if it's a certain type of computer or cell phone, why not route it to the center with the necessary parts or experience to refurbish, resell or repair it?
With Intellareturn, these locations can identify what's coming in and from whom in advance of the shipments. This innovation is part of the solution for applying intelligence at the point of return to improve customer service, drive loyalty and help save stores and/or manufacturers money by enhancing synchronization of post-sale events.
Returns and Repair Service
When the Intellareturn web return server and methods interface with courier shipping services, customers, manufacturers and retailers can automate verification of a product's eligibility for waranty entitlements — including routing the item to an authorized service center that can perform repair work or replace a product or part for the customer. The process is enabled in real-time, assuring that the authorized service center is the best location for warranty-return needs. Advance notification is also provided to the authorized service center by the courier shipper's network, so the warranty-repair agent knows what is arriving in advance for efficient planning.
These processes improve the speed of service and provide online tracking of the shipment's location and status. Return visits to retail locations are removed from the equation, since the return is fully automated to reduce processing expense and provide best practices in authorized service center repair or exchange.
With Intellareturn, warranty repair return processes interface with courier shipping services to save time and money with a streamlined returns process.
The benefits of RFID could translate into billions of dollars for retailers and manufacturers. Warranty data and proof-of-purchase are crucial elements for organizations and Intellareturn can even integrate our solutions within a manufacturer, retailer or online merchant's website as an end-to-end customer return center.
Need to improve your post-sale experiences for customers? Contact us today to learn more!