COURIER PARTNERSHIPS
The adoption of radio-frequency identification (RFID) by courier shipping and other logistics providers is primarily being held back by high costs and a lack of standards. However, many expect to offer a full RFID service to customers in two to three years.
Intellareturn RadioTag(sm) services can be woven into the basic package-tracking services used at the UPS, DHL, FedEx and U.S. Postal Service facilities and drop-off points throughout the country. This is accomplished with the addition of handheld RFID readers plugged into Internet-connected shipment and tracking services combined with the Intellareturn system and methods, providing the critical link to related warranty, ownership and expiration date data for returns processing or repairs.
As a result, Intellareturn is seeking alliances and licensing arrangements to support pilot programs that coincide with the technology standards needed to promote the proliferation of RFID. Common industry standards can develop realistic and effective business cases for RFID adaptation.
A Few Points to Remember ...

By the time RFID is implemented in one or more courier shipping networks, Intellareturn will have the lead in automated logistics and returns processing, with significant competitive advantage for licensees and the couriers themselves.
In the interim, there are vertical, high-value market applications that can utilize Intellareturn's RFID capabilities at the repair and receiving level.
Intellareturn Corporation is one of the RFID industry's leading thinkers around the next-generation supply chain, with unique insight into how courier shipping companies and manufacturing enterprises will create new solutions for these targeted opportunities.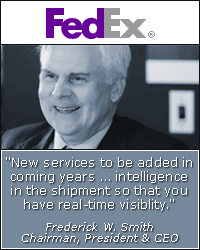 Today's supply chains continue to evolve into complex supply networks. This complexity creates opportunities to improve efficiency through greater visibility. RFID pilots have transitioned from compliance efforts to ROI-driven plans that go beyond the the four walls of the enterprise or warehouse. Delivering on the promise of the next-generation supply chain requires an evolution of data sharing, since traditional transaction and peer-to-peer connections — like EDI — were not built to support real-time visibility beyond the enterprise.
Intellareturn applications offer organizations the benefits of increased visibility and automation provided by RFID.
Looking to the Future of Supply Chains
Literally any courier shipping and/or receiving point can be directly linked to create an end-to-end sensor driven supply chain for warranty and related returns processing.
A prerequisite for moving in this direction is a critical mass of trading partners prepared to integrate with API applications in the same manner, with their third-party logistics providers. Supporting RFID automation on products through the supply chain requires:
utilization of the same electronic catalogue for identification
product data that ensures e-commerce support
SCM process standards such as Electronic Product Code(tm) (EPC) or other precise identification of physical locations within the supply chain.
Today, RFID can be incorporated into thousands of customer locations across the country. RFID tag capabilities can be introduced with minor software upgrades made available to third-party shippers utilizing services from UPS, FedEx, DHL and the U.S. Postal Service as enhancements to their current online courier shipping systems with Internet-based API and interface applications.
Become the Solution — Total Customer Satisfaction and ROI
Courier leaders are offering new services to help manufacturers, retailers, e-tailers, business partners and customers deal with the new challenges that arise throughout the product life cycle. With Intellareturn, courier companies can now position themselves to ensure customer satisfaction and return on investment — re-engineering customer return processes to take advantage of ownership and warranty registration information in order to make return business transactions easier.
According to UPS, there are three key supply-chain strategies that impact order management:
Track and trace.
Be dynamic, not static.
Differentiate through logistics.
Intellareturn allows organizations to incorporate all three, connecting all of the major touch points between the business and consumer relationship. In fact, a recent CIO Magazine article cited the importance in developing information look-up and retrieval systems that would enable couriers to answer questions at the customer site on packaging rules or export regulations, as well as order supplies. Today, the courier has a thick manual that is usually left in the truck.

According to Rob Carter, Chief Information Officer of FedEx, "There's the phenomenon of interconnectedness. It allows drivers to talk, computers to interact and businesses to work together. Whether it's wireless routing or fueling trucks, it's all happening dynamically."

Connecting New Levels of Customer Service with RFID
Intellareturn is positioned to offer partners a complete end-to-end RFID-enabled supply chain solution. Our patented system allows third-party courier shippers and their partners to validate a product's eligibility for return and warranty entitlement. Our easy-to-use RFID methods eliminate the need to stand in a retail store's customer service line, because they validate a product's warranty and provide information on centers at third-party pick-up or drop-off courier service locations. Intellareturn also partners with third-party courier service providers to use RFID in the reverse logistics industry.

Trevor Peirce, Global Director of RFID for DHL, often cites how RFID provides more information and better means for achieving customer satisfaction in a data intense environment. With Intellareturn, this premise is incredibly accurate and concurs with our focus for creating intelligence at the point of return.

To explore how your organization can enhance operations with the innovative Intellareturn solutions, contact us today for more information.